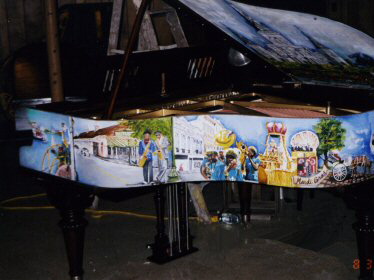 Unique piano tells Ponchatoula jazzman's story
By BRYAN T. McMAHON
Rex parades by accompanied by his jazz band, coming upon Satchmo (Louis Armstrong) and Lady Day (Billy Holiday) jamming in a nightclub, while Ponchatoula saxophonist Eddie Veatch wails on the Mississippi Queen riverboat, past St. Louis Cathedral and two hip cats horn jamming outside Cafe du Monde.
All those scenes and more form a colorful mural painted on the sides of a century-old piano that once was near ruin but now tells the story of New Orleans and the life of a native son long-since adopted by Ponchatoula, tells it in painting and in music that is both traditional and the most high-tech you could imagine, singing at the fingers of a hot piano man or just playing by itself.
It is a triumph of creation made possible through the experience of years of long hard work building Ed's Piano Shop into an internationally-respected exporter of restored and refinished classic pianos, none more unique than the "art case piano" nearing completion now.
This is how Eddie Veatch tells its story:
"The original concept came to me at a piano technicians" convention where they had a European 'art case piano' that was very elaborate, with gold leaf and paintings of European castles.
"I had just bought 50 pianos out of New Jersey and sold all but one, a problem piano that had been in a damp environment and the veneer was falling off. I kept thinking what I could do to salvage it. When I opened the box containing the piano's legs I saw they were in a beautiful fluted Victorian style.
"The idea came to me to make an art case piano rather than re-veneering the century-old instrument. If there is a central theme to it, and there is, it is New Orleans scenes from my own life."
Veatch has been playing music since age 12, attending North Texas State University, legendary home of some of America'ęs greatest musicians, then going on to serve in the 502nd Air Force Band, then after his discharge earning an associate degree in musical performance from Delgado, a bachelor's and master's degree in music from Southeastern Louisiana University. His professional music career is extensive and he has played with the great musicians of America.
Veatch is a great musician, not a great painter. "Luckily, I knew mother and son artists, Matthew and Connie Whittle. She had painted great scenes for me at the piano shop (located in the late Stan Cowen's former Blue Room) and created my family banner for the Krewe of Erin parade, so I knew how artistic she was.
"The first thing we did was go through all my photographs, then bought books depicting New Orleans scenes. Connie drew the scenes and Matt painted them. They brought my initial vision to the level of a mural. Originally, I had envisioned individual framed pictures on a marbleized background," said Veatch.
But it really wasn't that simple or straightforward. First they had to tear the century-old Ivers and Pond baby grand apart and then restore it piece-by-piece.
"It was pretty much a family affair. My wife Barbara refinished the case that my son Andrew repaired. Earl Caves helped dismantle and sand it," said Veatch, failing to mention his own extensive labor on the project. "We've been working on it for a year. The entire piano was completely dismantled, dried, shimmed, and refinished. The cast iron frame was gilded. The whole action was replaced - hammers, shanks, flanges, and whipens. All of the felt was replaced and new ivorine keys were installed."
That part of the hard work was devoted to restoring the piano to good-as-new shape 100 years ago. The next step introduced the instrument to the 21st Century.
"We installed a Piano Disc Player System, making it both a standard piano or a player piano. Piano Disc incorporated the latest in electronic technology, which enables the piano not only to play itself, but adds every instrument in the orchestra, including vocals and percussion. Discs that are used are produced in all musical styles, from jazz to classical music, A to Z," Veatch told The Times.
The amazing instrument nears completion, sheltered inside the former Ponchatoula Auction Company, ready to be shown to the larger world.
"I am going to display it at museums and at other venues where we can show it off. I've got to finish it first, which will take at least six weeks more," said Veatch.